Estimated reading time:
2
minutes
And now for something completely different: a technical problem description. I'm learning to use Microsoft Intune to manage devices. So I added two laptops after reinstalling them with a brand new W10 installation. And I added my Samsung S8 mobile device. This was somewhere in december 2019. Some time later I found out I had a problem on my mobile.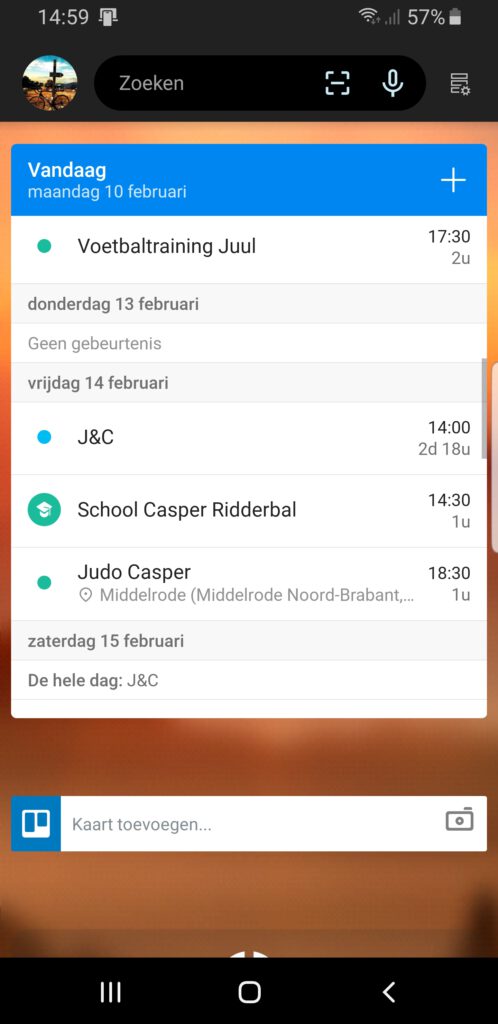 Problem
Widgets I use on my phone are not updating anymore. i.e. Outlook Mobile, Evernote, Weather, Microsoft To Do. I use widgets a lot so this is somewhat frustrating.
Cause
It took me a while to figure this out. Problem is in the combination "company portal" and "Microsoft Launcher" and Management via Azure portal. Seems that since an update of Microsoft Launcher this problem occurs.
Solution
Probably a fix is needed in the Microsoft Launcher app.
Workaround
I deleted the device in Azure AD, removed the MSFT Company Portal and now the Outlook Calendar Widget updates itself again when adding or removing meetings.

Or you can adjust the size of the widget, when you do this it updates the data. But off course this is a bad workaround.
Another option is to not use the Microsoft Launcher app, but the native one.
Related info
I used the latest versions of Outlook Mobile 4.1.15, Company Portal 5.0.4672.0 and Microsoft Launcher 5.11.2 (9th of feb 2020).
The issue is reported via the Microsoft techcomunity and described in this thread. I also send an email to microsoftlauncherfb@microsoft.com.
** Update 19th Feb from the Microsoft Launcher Product Team **
Thanks for your feedback and thank your for using our launcher, for this issue need partner team fix from their side, the info we get is :
Just confirmed with Company portal team, they start staging rollout to production on 2/18 EST timezone (UTC -5), and will rollout completely on their Thursday if there is no more biger changes needed.
Please pay more patience wait Company portal release fix to public.
The BETA-version of the Company Portal seems to have solved the issue.
** Update 10th of March from the Microsoft Launcher Product Team
@mikesirois  Thanks for your feedback and thank your for using our launcher, for this issue need partner team fix from their side, the info we get is:

Just confirmed with Company portal team, they start staging rollout to production on 2/18 EST timezone (UTC -5), and will rollout completely on their Thursday if there is no more biger changes needed.

Please pay more patience wait Company portal release fix to public.

Thanks,
Na